You may personalize each of the various emails that WooCommerce sends out by using the WordPress plugin YayMail WooCommerce Email Customizer.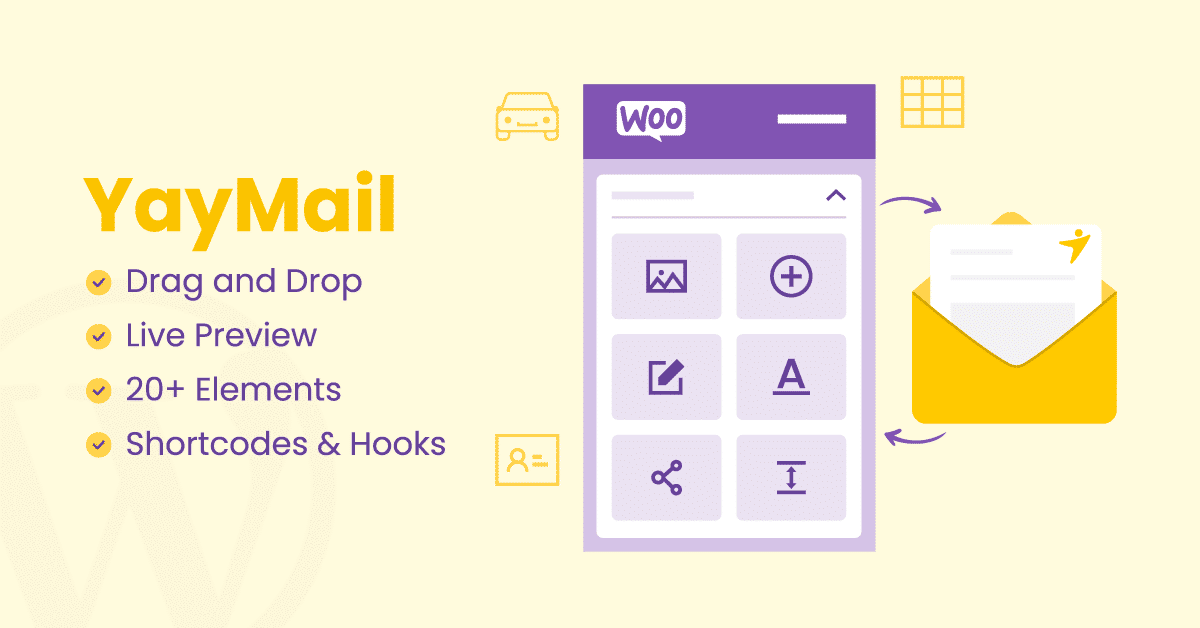 It is quite simple to alter the emails to the desired state that works for your business thanks to its drag-and-drop editor. You can add images, alter the font, icon, color, and other elements using this WordPress plugin.
Yaymail packages come in different forms :
YayMail Free: This is a free Yaymail plugin package that helps you to fully customize 11 standard WC email templates for your woo-commerce store
YayMail Pro: This is a paid plugin package that includes all the free Yaymail plugin features, AND is very compatible with various third-party WordPress/WooCommerce plugins
YayMail Addons: This is a Paid Yaymail plugin add-on that can help you to customize emails generated by third-party WooCommerce extensions.
In this post, I will teach you how to set up and install Yaymail WooCommerce email customizer plugin in an easy way.
Step One: Download Yaymail WooCommerce Email Customizer
I believe that you must have made up your mind to either try the Yaymail WooCommerce email customizer plugin for free or purchase a pro version. Whichever one is your choice, kindly go for it.
Download Yaymail Pro Version Plugin
Pro version for advanced functionality
Now you have purchased and downloaded your Yaymail plugin in zip format. Proceed to step 2.
Step Two: How to Install Yaymail WooCommerce Email Customizer Plugin
Go to Plugins -> Add New.
2. On the admin WordPress page, click the "Upload Plugin" button.
3. Select the YayMail in .zip format, and click on the "Choose File" button to select your downloaded plugin from your computer.
4. Click the "Install Now" button.
5. Wait for a few seconds for WordPress to successfully complete the installation.
Click on Activate! to finalize this process.
Read our post on Top six Woocommerce email customizer plugins
Step Three: Obtain and Enter Your Licence Key
When you purchase the Yaymail pro version, you will need a license key or code to activate it. The license key shows that you are the original owner of the purchased plugin.
You may find your license key in the License Keys tab after logging into your account on YayMail website, yaycommerce.com.
Copy your provided license key and log in to your WordPress admin dashboard. Select WooCommerce tab and select settings from the drop-down menu. Select the YayMail Pro License tab and input your copied license keys in the "Enter a license Key" textbox.
In an event that you want to move a license from one site to another ( multi-site) , please go to Dashboard > License Keys > Manage sites
Final
We believe that every business setting requires an efficient way of making sales in order to generate much revenue. This very reason is why we recommend the Yaymail email customizer plugin for easy and professionally customized email templates for more customer acquisition.
Having a custom-made email template and copy is a great way of selling your online products fast. In this post, you learn how to download and install the Yaymail plugin for your WooCommerce email campaign.
Original Source : Techgummy